Brown's corporation tax headache
As the UK budget deficit spirals, figures reveal the vulnerability of the corporate tax base...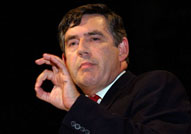 According to the House of Commons public accounts select committee, about two-thirds of the £24bn corporation tax take in 2006-7 came from just 50 companies – most of whom were in the energy and financial sectors. Meanwhile a quarter of Britain's 700 biggest companies didn't pay a single penny in corporation tax, thanks to some clever accountants – which means that unless HM Revenue and Customs cracks down hard on tax avoidance, there's going to be a serious shortfall in the next few years...
For a Government that's apparently decided to spend its way out of a recession, these figures make grim reading. Since corporation tax is paid on company profits, the effects of the financial crisis (and the impending recession that will inevitably follow) will slash this year's take – there was an 8% fall in September's receipts compared to 2007, as banking profits were hammered.
The worrying thing is just how reliant the Treasury has been on taxes from the City (Gordon Brown may be putting the boot into the banks now, but we don't remember him complaining when he was using their taxes to fund his public spending). Oil and gas companies have been the other big contributors (hence their indignant response to the threat of a windfall tax), but they're also likely to see profits slashed as the oil price drops. Since these two sectors have made up such a huge portion of the corporation tax base, their struggles will have a significant effect on the overall take.