Can Bruce Willis save Russia?
Russia bails out Trust bank, famous for its adverts featuring the Die Hard actor. But is that the real reason the rouble's strengthening?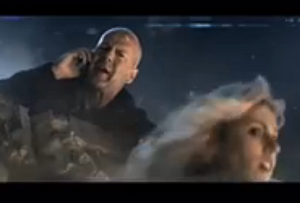 'When I need money,' ageing Hollywood hardman Bruce Willis smoulders at the Russian passersby, 'I just take it'. No, this isn't a devious attempt by Hollywood to cause a run on Russian banks (studios' ire is reserved for North Korea), but rather an advert for Trust bank, which Russia is to bail out.
The Central Bank of Russia (CBR) said today that it's going to loan 30 billion roubles (£343m) to the unfortunately named Trust, which had 278 branches and 145 billion rubles in deposits on December 1st, in order to prevent its bankruptcy. And you thought the days of bailouts were over…