BSkyB is Britain's Most Admired Company 2009
The UK's biggest listed businesses have spoken: BSkyB is officially Britain's Most Admired Company.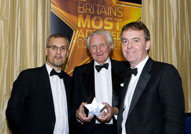 The great and good of UK plc were in attendance at Claridges in London tonight to see BSkyB scoop MT's coveted 'Britain's Most Admired Company' award for 2009. CEO Jeremy Darroch was on hand to pick up the top prize from Haymarket chairman Lord Heseltine, as Sky became our youngest ever winner (the award comes just 20 years into its existence). Meanwhile there was also gongs for Sir Terry Leahy of Tesco - still Britain's Most Admired Leader - and the likes of Johnson Matthey, Cadbury and GlaxoSmithKline (more photos HERE). These are the companies their competitors think are best-placed to ride out the current storm...
MT's annual 'Britain's Most Admired Companies' awards are unique, because they're based on a peer review survey (conducted by Professor Mike Brown of Birmingham City Business School). So the winners aren't chosen by a bunch of judges in a smoke-filled room - they're chosen by the people that know these companies best, i.e. their competitors. And their verdict was that BSkyB - fourth last year - has inched ahead of Tesco and Johnson Matthey to become Britain's best-regarded public company. It's an impressive achievement for such a relatively young business, not least because the media industry as a whole has had such a rotten year (none of Sky's rivals got within thirty points of it).
'BSkyB has shown that a class-leading product, well marketed and slickly delivered, can continue to grow and prosper even in the most challenging circumstances,' said MT editor Matthew Gwyther. 'But perhaps its greatest achievement is the transition from being a new kid on the block and awkward industry outsider to winning over a jury of peers and becoming the UK's most admired company.'