BSkyB gobbles up 70% stake in The Great British Bake Off maker
Independent TV companies are being snaffled up by big media beasts, as Murdoch continues to plot a move for Time Warner.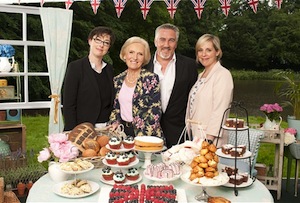 Independent TV companies are fast becoming less, well, independent. After Rupert Murdoch's Fox said it was merging the three producers behind MasterChef, Big Brother and American Idol in May, BSkyB (39% owned by Murdoch) is buying a 70% slice of the makers of The Great British Bake Off.

Not only has Love Productions made Mary Berry a national treasure and baking suddenly oh so fashionable, but it has also got Britain all worked up over 'poverty porn' in controversial documentary series Benefits Street.

It's a relatively small company, with revenues of just £14m last year, according to a survey by Broadcast magazine. Sky didn't say how much it paid for the majority stake, which will give Love the opportunity to push its content out overseas while strengthening the broadcaster's content portfolio.

While the deal is small fry in the grand scheme of things, it's the thin end of a very large wedge of consolidation going on in the media industry, as the traditional giants try to shore themselves up against online content providers like Netflix.

Last week Sky sold its minority stake in ITV to Liberty Global for £481m. ITV, in turn, agreed a deal worth up to $800m for Real Housewives of New Jersey Maker Leftfield Entertainment in May.

The big daddy of media deals, though, is the $80bn rejected offer Murdoch's Fox made for Time Warner in June. Murdoch is still plotting to take it over and is reportedly considering using the cash from his planned sale of Sky Italia and Sky Deutschland to their UK namesake to up his offer, according to Bloomberg.

He may also try to buy the remaining 61% of Sky and its newly-acquired European assets. Political pressure scuppered the deal when Murdoch first tried it pre-phone hacking and the Leveson Inquiry, and would probably do so again given next year's fast approaching election (a takeover would need government approval) and the fact Andy Coulson still has two trials to go.

But if the cash goes towards Time Warner, it looks far less likely Murdoch will even try. Investors agree: Sky shares were down around 2% in mid-morning trading.