BSkyB could lose £200m on ITV stake
Bad news for new BSkyB boss Jeremy Darroch – the Competition Commission has recommended that the broadcaster should cut its stake in ITV to less than 7.5%.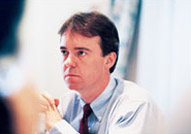 It's not quite the end of the story: the Commission's recommendation isn't binding, so the final decision will be made by secretary of state John Hutton at the end of January. And it could have been worse – there had been speculation that it was planning to argue for a sub-5% stake. But it still means that BSkyB will be forced to sell a big stake that is now worth considerably less than it was when they bought it.
Former Sky boss James Murdoch snapped up a 17.9% stake in ITV in November last year, in a move that was widely seen as a defensive tactic to block a proposed takeover by rival NTL (though Sky preferred to position it as 'a long-term investment'). Sky paid £940m for the stake, at 135p a share – so if it's forced to sell a 10.4% stake at the current price of about 85p, Darroch could be lumbered with a loss of about £205m.
The Competition Commission got involved in May, after regulator Ofcom and the Office of Fair Trading said the stake raised 'significant' competition and public interest concerns. And after six months of investigation, the Commission seems to concur. The arrangement 'may be expected to result in a reduction in the quality of the offer, a reduction in innovation, or an increase in the price of audiovisual services,' it said today.