BSkyB is no more as Sky completes £7bn European takeovers
The 'British' and 'Broadcasting' have been exorcised from Rupert Murdoch's new pay TV leviathan.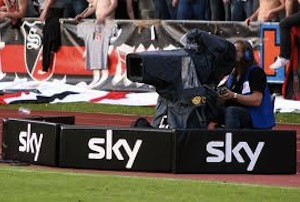 BSkyB is dead. All hail Sky. Rupert Murdoch's newly-enlarged pay TV empire is dropping the 'British' and 'Broadcasting' from its name after completing the £7bn double acquisition of Sky Deutschland and Sky Italia.

The company is also changing its stock market ticket from BSY to SKY, subject to shareholder approval at its AGM next week, to reflect the spreading of its tentacles across the continent and the shift from traditional TV broadcasting to watching online and services like broadband.

The enlarged entity is staying listed in London, with Jeremy Darroch, the boss of the British arm, taking charge of the whole thing. Deutschland and Italia chief execs Brian Sullivan and Andrea Zappa, both ex-BSkyBers will stay at the helm of their respective enclaves.

Of course, the whole deal is Murdoch merely shifting one part of his empire to the other, with the cash originally intended to fund his aborted $80bn (£50.7bn) move for Time Warner. Sky bought the 57% of Sky Deutschland and whole of Sky Italia owned by 21st Century Fox for €3.6bn (£2.8bn) and £2.45bn respectively. It snaffled up a further 33% of the German business from minority shareholders, most of that for €6.75 a share. And Sky is still 39% owned by - wait for it - Fox.

'It's not about the UK taking over, it is about bringing the three Skys together,' Darroch told the Telegraph. A likely story, given 25,000 of the enlarged company's employees are in the UK. Moreover, the British part's annual revenues of £7.6bn are more than three times that of Sky Italia and almost six times Sky Deutschland's. But MT is nonetheless sure the media megatron will be one big happy Murdoch family.