BT faces its first strike in 23 years
The CWU's unhappy with BT's latest pay offer. It makes some good points - but the odds are against it.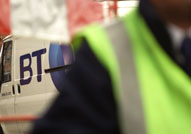 Looks like BT could be facing its first strike since 1987, if the result of a union ballot announced today goes as expected. The Communication Workers Union is unhappy with BT's 2% pay offer, arguing that it can afford to be more generous given the £1bn profit it posted last year. Instead, it's agitating for 5% over the next 21 months – but that could drain funds from BT's investment programme, hampering its recent recovery. And even if a strike does go ahead, it's unlikely to have universal support from BT's staff. Is the CWU shooting itself in the foot here?

It's true that BT staff haven't had an easy time of it lately: not only has their struggling employer been forced to make 35,000 redundancies, but the remaining staff have had to endure a two-year pay freeze. The CWU says it's now 'quietly confident' the strike will go ahead, and if it does, BT has plenty of cause to be nervous: CWU members mainly work in its call centres and engineering vans, so customers are likely to notice the difference (the telecoms giant has reportedly asked managers from its Openreach unit to provide cover if the strike happens).

One of the union's main bones of contention is that BT doesn't seem to be sharing the pain equally. For instance, CEO Ian Livingston has seen his bonus more than triple to £1.2m, as well as being offered a 6% pay rise. Although he's tried to diffuse the row by taking just 2% and donating the rest to charity (we'd love to know what the CWU makes of that), the same is unlikely to be true of the rest of the company's senior executives, who've been offered rises of between 5% and 8%. You can see why this would look unfair to front-line staff (even if managers have hit their performance targets).

The trouble is, a higher pay rise across-the-board could have far-reaching implications. Analysts have warned that anything above 2% could throw BT's plans to roll out super-fast broadband into disarray - the firm wants to spend £2.5bn building a fibre-optic network that would serve two-thirds of homes in the UK by 2015, but a higher rise would drain money from the investment programme (making it vulnerable to competition from the likes of Virgin Media). This could hammer its growth prospects, jeopardising jobs in the longer term. Presumably, this is why BT's second-largest union, Prospect, is being rather less awkward on the matter: recently, 88% of its 30,000 members voted to accept the 2% rise, rather weakening the CWU's bargaining position.

Then again, if the government decides to adopt the CBI's recent recommendations, striking could be about to get a lot more difficult. So perhaps the CWU has decided it's now or never.

In today's bulletin:
BT faces its first strike in 23 years
Gloves off as spending cut soften-up gathers pace
Kraft sheds three-quarters of Cadbury's senior managers
Books Special: How They Blew It, by Jamie Oliver and Tony Goodwin
MT Expert's Ten Top Tips: Get more from your investors