BT phone home
Telecoms giant BT's share price has plummeted to a 24-year low after the group issued a profit warning.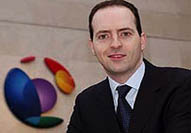 At just over a pound, BT shares this morning were lower than the 130p at which the group was privatised back in the Thatcherite sell-off of 1984. That's not a great return for two decades of 'progress' - anyone who still has shares they bought at the time probably wishes they had flogged them in June 2007, when they were fetching over 330p apiece. Isn't hindsight a wonderful thing?
It's all because of a 'disappointing' performance from the group's Global Services arm, effectively BT's IT consultancy business, which has been involved in many of the nation's largest and most important – but least popular – IT projects, like the NHS programme, as well as big-ticket deals for companies like Unilever and InBev. Revenues, says BT boss Ian Livingston, will be up 15% but profits will be significantly below expectations at £120m. Perhaps we should all get on the blower this afternoon to try and boost BT's depleted coffers by more traditional means.
So far, not so bad you might think. At least it is still making a profit, more than some can say in the current economic climate. But such is the nervy state of mind in the markets at present that any news – good or bad – tends to receive a rather emotional over-reaction.