BT's £900m victory sends Sky shares plummeting
In a stunning victory, BT has won the rights for Champions League football, ending 10 years of domination for BSkyB and ITV.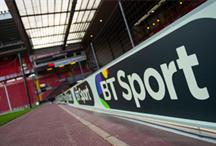 Long before this season's premiership got underway, a battle was raging behind the scenes over how UK football fans would be tuning in to watch the matches.

In August, BT launched its first television channel, BT Sport, which promised to give free sports including some Premiership football to those who sign up for its Infinity broadband offer. The move put the boot into BSkyB which, alongside ITV, has long had the rights over Premier League matches.

Now BT has gone a step further and won the rights for the Champions League in a £900 million three-year deal. The figure is more than double the £400m BSkyB and ITV are paying for the current three-year contract, and is the first time BSkyB has been outbid in the football stakes.

The deal means BT will replace BSkyB and Britain's biggest free-to-air commercial channel, ITV, as the sole provider of Champions League matches on Tuesday and Wednesday nights. BT will also show the UEFA Europa League for three years, Europe's second-tier football competition.

This morning, the implications of that victory became clear. BSkyB's shares dropped 10% at one point, knocking more than £1.4bn off the value of the company. ITV also suffered, with shares slipping 3% in early morning trading.

Yet BT didn't fare much better. Shares were down 2% as the City speculated that BT massively overpaid for the rights. BT, however, maintains that the contract will not affect its financial targets. The group has spent years slashing costs after two major profit warnings in 2008 and 2009. But BT said it can absorb the cost into its annual balance sheet.

For BSkyB, which has built its business around broadcasting sports and movies to around 10 million homes, BT's victory will mean a change of direction for the business. BSkyB first won the rights to show Europe's premier competition in 2002, and it has been a lucrative deal ever since.

BSkyB, which had the rights to show seven live matches on Tuesday nights and eight live matches on Wednesday night, will now have a gaping hole in its scheduling and could lose some of its subscribers who paid to access its sports channels. It is thought the broadcaster might now focus on commissioning more drama as an alternative to sport, an expensive and risky gamble.

Announcing the deal on Saturday, the newly appointed BT chief executive Gavin Patterson defended the amount paid, saying it had introduced 'a welcome element of competition' into the market. 'I am thrilled that BT Sport will be the only place where fans can enjoy all the live action from the UEFA Champions League and UEFA Europa League,' he added.