Budding green entrepreneurs short of role models
Should we be worried that Richard Branson has just been voted Britain's greenest entrepreneur?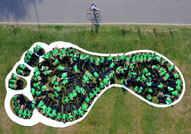 In a survey commissioned by youth enterprise competition Make Your Mark, one-third of the youngsters questioned suggested Richard Branson was Britain's greenest entrepreneur – although they couldn't actually think of any green initiatives he'd been involved with (we suppose he at least does trains, right?). As charitable types, we're inclined to agree that this is more a reflection of the lack of obvious candidates, as opposed to the diminished faculties of the youth of today. And the worry is that this lack of decent role models could make it harder to attract budding entrepreneurs into the sector…

MYM is trying to do its bit by giving this year's competition (which takes place during Global Entrepreneurship Week in November) a low-carbon theme – so entrants will be asked to come up with businesses that help save the earth as well as turn a profit. But it sounds like they'll be flying blind (or whatever the low-carbon equivalent is), since most don't seem to know much about the sector at all. A susbtantial number were unaware that it employs about a million people, while most couldn't really name any inspirational green entrepreneurs (even green lobby darling Zac Goldsmith was cited by a measly 6% - perhaps because he's about to become a Tory MP). So it's perhaps no wonder the internet is considered a more plausible entrepreneurial cash cow.

We can see the point, and we're inclined to agree that having better role models will help make the sector a more attractive place to work and start businesses. But it's worth remembering that we're talking about some very young industries here: part of the reason why there are no famous green entrepreneurs is that there aren't many green businesses (yet) with the scale of a Microsoft or Virgin or Google. Fifteen years ago there weren't too many internet millionaires around either, but people worked that one out eventually. And we're already starting to see some incredibly impressive 'green' entrepreneurs emerge – we're thinking of the likes of Tim Smit of the Eden Project, Juliet Davenport of Good Energy and 35-under-35er Kresse Wesling of Eako, to name but a few.

What's more, good entrepreneurs go where the opportunity is – and as time goes by, that will increasingly mean the green sector. So maybe we shouldn't worry that these kids are citing Branson: the key is for them to develop that entrepreneurial mindset, and the rest will follow naturally...

In today's bulletin:
BAE threatened with £1bn fine as SFO gets tough
Asda raises the stakes in the bid for customer loyalty
Why shouldn't Northern Rock boss get another chance?
Editor's blog: The limits of online advertising
Budding green entrepreneurs short of role models