Budweiser brewer had 'frat party' atmosphere, says senior female exec
Anheuser-Busch is being sued for sex discrimination - by the woman who used to run its PR...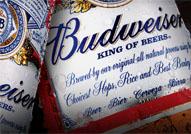 Its products have certainly fuelled a lot of frat parties, but could it be that Anheuser-Busch encouraged a similar climate in-house too? That's the claim of Francine Katz, a 20-year A-B veteran; she's suing the US brewer for sex discrimination, arguing that her pay was way below that of her male counterparts. This would be embarrassing enough at the best of times for A-B (now part of the InBev stable, of course) - but to make matters worse, Katz used to be their chief communications officer, in charge of the firm's public image...

According to Katz, the brewer not only fostered a 'locker room' and 'frat party' culture inside the firm (which for those of you unfamiliar with Animal House et al, roughly translates as laddish and/ or macho), but also actively discriminated against female execs - they got paid less than their male equivalents, were excluded from 'informal social networks' (rounds of golf, maybe?) and saw their plum responsibilities handed over to men. Apparently she only became aware of these disparities last year, via documents circulated ahead of the firm's $52bn takeover by Belgian giant InBev.

A-B has hotly denied all this, of course, insisting that her claims are 'unjustified' and that she was paid fairly. But this lawsuit is still potentially embarrassing, purely because of Katz's seniority - she says that back in 2002, she became the first woman to sit on A-B's strategy committee (a brains trust of the top execs in the company). At this point, she claims, she was paid $500,000 - no small beer, admittedly, but $750,000 less than her predecessor.

Perhaps (to paraphrase Kerry Katona) Katz wishes she'd gone to Iceland. According to a new World Economic Forum report, Iceland is now doing more than any other country in the world to tackle the gender gap in politics, education, health and finance. The cynic might point out that this hasn't done the country much good, given that it's currently an economic basket case - but the kinder interpretation is that it has learned from its mistakes and is trying to become more inclusive. Given that the UK and the US both slipped down the rankings this year, it seems both countries could learn a thing or two from that.

In today's bulletin:
Tesco hovers as EU approves Northern Rock break-up
Big Gatwick loss causes BAA profits to nosedive
Government NIC hike will cost 57,000 jobs, says think-tank
Budweiser brewer had 'frat party' atmosphere, says senior female exec
Check out Lady Geek, our great new technology blog