Builders bashed after housing subsidence
It's a rotten time to be a housebuilder. More gloomy news on the housing market has sent shares plunging...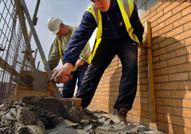 The latest gloomy prediction from HBOS, the UK's biggest mortgage lender, suggests that house prices could slide by an average of 9% in 2008, with the number of transactions dropping almost by half. And given that its forecast appears to be getting worse with every passing month (back in February it was saying prices would remain flat), it might end up being even more hairy by the time the year is out.
As far as HBOS is concerned, this means it's expecting a rise in the number of people who can't afford their mortgage bills. It's already seen the proportion of borrowers in arrears on their mortgage rise from 1.3% to 1.43% in the last six months, with self-certified borrowers worst affected – over 3% of them are now in arrears (and they account for nearly 15% of HBOS's book). And there's a very similar story over at Bradford & Bingley, according to a report in today's FT.
Of course HBOS is not the only bank issuing dire warnings about the UK housing market – which is pretty bad news if you're a housebuilder. Yesterday various analysts laid into the sector: Goldman Sachs warned that we are 'only at the start of a steep downturn' and advised investors to head for the hills, while UBS and Credit Suisse also downgraded their forecasts on the big builders like Hammerson, Bellway and Taylor Wimpey. The consequence was an absolute hammering for building stocks, with shares sliding across the sector. The biggest loser was Redrow, which is apparently in more trouble than most because it's highly leveraged – it saw 17% wiped off its share price yesterday (though it rebounded slightly this morning). It's now lost half of its value in the last six months.