Builders bounce as fall in house prices slows
If you're a housebuilder, even a slightly slower rate of house price falls is welcome news at the moment...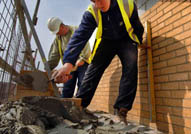 Could an end be in sight for the precipitous fall in the housing market? The latest figures from Nationwide suggest that house prices fell again in November, but only by 0.4% - a marked improvement on October's fall of 1.3%. That's the smallest drop since the housing slump began last year, according to Nationwide – and although it's not calling the bottom of the market just yet, the news helped all our ailing housebuilders enjoy a rare share price bounce this morning. After the year they've had, even quite-bad news counts as good news, it seems.
Nationwide said the average house price fell just £430 in November, to £158,442, improving the annual rate of decline to a mere 13.9%. However, although this figure was much better than everyone expected, the lender was still determined to rain on our parade, warning that we shouldn't expect a quick recovery. 'The labour market is weakening, which will inevitably hinder market demand, particularly when property remains expensive relative to earnings,' said chief economist (and spell-check scourge) Fionnuala Earley. 'With prices falling at their current rate there is also little incentive for new borrowers to hurry into the market.'
To be fair, it would have been pretty disappointing if there'd been no improvement at all last month. As well as the Government's stamp duty holiday (which may have had some effect, although we suspect it was pretty negligible), we also saw the Bank of England's biggest interest rate cut in decades – which will have made mortgages cheaper, once the banks were arm-twisted into passing it on. The hope is that the inevitable further interest rate cuts forthcoming in the next few months will have a similarly positive effect – although again, it will depend on whether the Government can helps banks regain their confidence to lend.