Building the Johnnie Walker brand
This case focuses on the global strategy and the radical steps required to reverse the declining trend in sales experienced by Johnnie Walker, the flagship brand in Diageo's portfolio (which included Guinness, J&B, Smirnoff and Tanqueray), and restore its former prestige.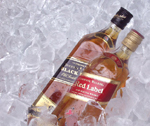 Research associate Nina Paavola under the supervision of Amitava Chattopadhyay, the L'Oréal chaired professor of marketing innovation and creativity at INSEAD, reviews the history of the brand from its creation in 1820, and describes the factors contributing to its decline: the Asian crisis, new trends in alcohol consumption, competition from new spirits, and changes in men's lifestyles and aspirations.
For Stephen Morley, global brand director for Johnnie Walker, the stakes were high: Johnnie Walker was a jewel in Diageo's crown, representing almost 25% of the company's total gross profits. The key question for him was how best to position the brand so as to meet the targets set by the board.
His team's analysis revealed that Johnnie Walker's position was being eroded in emerging and developing markets due to increased competition from new spirits, beer, wine and champagne, as well as the rising cost of doing business as a result of duty increases, counterfeiting and distribution issues.
It found that in key mature markets, sales of Johnnie Walker clearly depended on an ageing consumer base. Moreover, consumers were failing to perceive the differences between Scotch brands due to the fact that the value of standard and deluxe blended whiskies had been undermined by the growth in super-premium and malts.
In 1999 Diageo instituted a new global approach to managing Johnnie Walker as it sought to develop the right positioning and re-establish the brand's credentials. Essentially this meant tapping into the fundamental consumer motivations emerging from evolving social change worldwide and appealling to customers on a more personal level.
Consumer research revealed that Johnnie Walker was associated with distinct brand values such as substance, excellence and masculinity, which were relevant to men at different stages of their lives. One particular study by Research International about the changing role of men in society seemed to have particular significance.
Pondering the results of the masculinity study, the team wondered if a common positioning for the Johnnie Walker brand should replace the current separation between Red Label, Black Label and the Super Deluxe Malts. Which elements of the longstanding associations and icons linked to Johnnie Walker could be best leveraged to build a positioning platform? The pressure was on to provide some answers as the foundation of all Diageo's brand strategy was the identification of 'the key brand benefit' - the single most powerful asset of the brand in meeting the consumer's needs.

INSEAD 2006