Bulldog spirit for British bosses
A new survey suggests UK leaders are not as gloomy about the economy as everyone seems to think...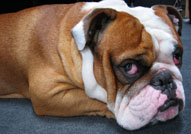 Legal specialist Employment Law Advisory Services has been conducting research among 1,500 senior managers in the UK – and found them to be surprisingly positive. Only one in four reckons they're going to perform worse this year than in 2007. And there are no signs of panic about the year to come: nearly 60% of firms claimed to be either very or cautiously optimistic about their business prospects for 2009, and a similar proportion reckon they have no plans to cut headcount or working hours. Good news for UK plc – if not for employment law advisers…
Of course not everyone's seeing the next year through rose-tinted glasses: one in three said they felt 'alarm' or 'pessimism' about the coming months. But the majority seemed pretty confident that they can trade their way out of the downturn. 'This is a timely reminder that despite the current difficulties, Britain's entrepreneurs and business leaders are a tough breed,' says ELAS's Peter Mooney. Sure enough, only 3% claimed to be worried about going bust.
And although ELAS acknowledges that companies will be looking to cut unnecessary costs, in a bid to boost their bottom line, its research suggests that swingeing job cuts are not necessarily on the cards: just 3% said that they're definitely going to make job cuts. Then again, ELAS admitted that a number of companies have been seeking its advice on 'adjusting staffing levels', so it could just be that the worst is still to come. Staff at BT, or Taylor Wimpey, or Virgin Media would certainly beg to differ on this point.