Bullshit Britain?
The truth about the British economy can be summed up as "we count the money and we do the bullshit", say Larry Elliott and Dan Atkinson, co-authors of Fantasy Island, a new book published this month by Constable.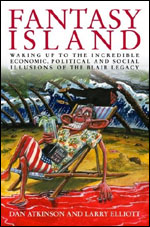 The UK has excelled in professions which require the gift of the gab such as law, media, management consultancy and advertising; and speculators have turned London's City into a financial hub. But the country has lost the world-class manufacturing capability still strong in the US, Japan and Germany (the latter is the biggest exporter in the world).
Some politicians in the UK have managed to convince themselves that the country's declining manufacturing base (with world excellence in only two sectors - pharmaceuticals and arms) is made up for by the growth in the creative industries and the rise of university-educated knowledge workers. The deficit in Britain's visible trade (the stuff it makes) tells a different story; it was £60 billion in 2006 or 5% of GDP, larger than at any time since 1945. This reveals the true state of the economy.
It is arguable that the main factors which have helped to boost the economy (apart from the speculators in the City and the money earned by the professions) have been government spending in the public sector (made possible by budget surpluses) and high consumer spending (made possible by waves of property speculation, enabling people to borrow against their main assets).
If the creative industries were as strong as New Labour would have us believe, then the situation might not be so dire. But the signs point in the opposite direction. Large numbers of highly educated graduates are over-qualified for their first jobs, suggesting that there is not a big knowledge economy waiting to soak them up. There are, however, millions of service jobs at the low end of the spectrum. For example, the proportion of people working in domestic service (cooking, cleaning, child care and gardening) today is the same as it was in the 1860s. Between 1992 and 1999, hairdressing was the fastest-growing occupation.
R&D spending in the UK is low compared to other developed nations (the UK performed well on a R&D scoreboard in just two sectors - pharmaceuticals and aerospace). The design industry, usually lauded as one of the country's success stories, has experienced falling earnings: £1.4bn in 2000-2002 to £699m in 2004-2005.
You could say that there are "clusters of excellence" around science, finance and the arts. There is an alternative picture, suggest Elliott and Atkinson: "Another way of looking at the economy is to say that the pharmaceutical industry will eventually migrate to the United States, where the money is; that big finance would come a cropper in the event of a bursting of the debt-driven bubble; and that Bullshit Britain reaches its apotheosis in the lionisation of the cultural industries."
Source:
Talk is cheap
Larry Elliott and Dan Atkinson
The Guardian, 18 May 2007
Reviewed by Morice Mendoza