Burberry earns its stripes
Burberry recorded a 14% profit jump last year. Are designer handbags considered a necessity these days?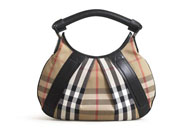 Some of our biggest retailers may be moaning about a high street slowdown, but not Burberry. The upmarket fashion label said today that its underlying profit in the year to March (the operating profit minus one-off expenses) soared 14% to £206m, while revenues jumped 18% to £995m – healthy increases and a healthy margin, too. CEO Angela Ahrendts said the results: 'demonstrate the robustness of our global luxury business in these challenging times'. In other words, there are plenty of people around who can still afford to splash out on fripperies...
Burberry said that its famous 'outerwear' (i.e. coats and jackets) remains 'the cornerstone of the brand', helped by the launch of the Sport range, and it expects this to account for a growing proportion of sales in the coming 12 months. And about a third of last year's sales came from what Burberry calls 'non-apparel' – that's accessories to us. Clearly its designer handbags and high heels remain hot property, even if your average punter would have to sell a kidney to afford one.
It hasn't all been plain sailing for Burberry this year. In January it revealed that sales were lower than expected in the three months before Christmas, suggesting that shoppers were hanging on for the sales – which caused its share price to slide (at least until a bullish trading statement perked everyone up again). And today's profits have come in slightly below the target figure of £210m (that's about four handbag sales short, by our reckoning).