Burberry sales dip in China, but shares jump
Fashion giant Burberry has confirmed that sales growth in China is slowing, but revealed that sales in other markets remain strong.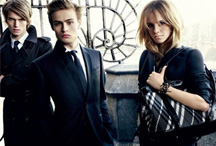 Shares in Burberry rose 7% in early morning trading after Burberry revealed that things are not as bad as feared when it issued a profit warning last month. Despite acknowledging a slowdown in sales in China, the firm said that comparable store sales growth six months to the end of September was up 3%, and underlying revenue was up 10% to £557m, compared with the previous half. That 'underlying' word does seem to creep in a lot with firms that have less-than-good trading conditions to deal with. But in our book, the whole of the Chinese economy performing worse than hoped can hardly be deemed 'exceptional circumstances'…
Things certainly didn't look too rosy for Burberry in early September, after the profit warning caused shares to slump 19%. And even though shares have rebounded considerably with these new half-year results, they remain more than 20% lower than they were before the profit warning was issued. In fairness to the chain, no one was really expecting the slowdown in the Chinese economy, and businesses across many sectors have been affected by it. But with total revenue for the group actually rising by £53m to £883m, a slowdown in Chinese sales is hardly the end of the world. CEO, Angela Ahrendts, said: 'In a more challenging external environment, footfall declined but brand momentum remained strong, particularly with our higher spending luxury consumer.'
And to a certain extent, Angela is right. Despite lower footfall, the average spend was higher and the 'sale quality' was higher during the period. We're assuming that means your average customer bought a more expensive coat rather than two slightly cheaper shirts. Furthermore, the chain has expansion plans afoot: 13 new stores have opened in the half, including in flagship locations such as Milan, Rome, Hong Kong and London's Regent Street. The firm expects second-half retail selling space to increase by about 14% compared with H1. With an economic upturn (hopefully soon, please), that will be a welcome launch pad for faster European sales growth.