Burberry's billion pound breakthrough
The British luxury brand tops £1bn turnover in the first half of the year, although profit remains flat.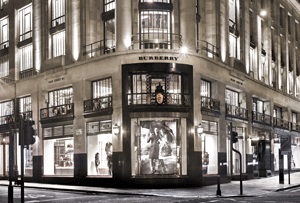 Despite many fashion retailers facing choppy waters, Burberry is one brand which is keeping its head well above the swell. In this first six months of the year, revenue topped £1bn for the first time as the British powerhouse continues its digital push and international focus.

The 157-year-old purveyor of checked trenchcoats said total revenue rose 17% to £1.03bn, driven by a 20% increase in retail revenue to £695m on strong global demand for its luxury clothing and accessories. Profits before tax, however, came in at £174m, around the same as a year ago on costs associated with bringing its beauty business in-house in April. This didn't phase investors though - shares rose 3% in mid-morning trading.

The update is the first since CEO Angela Ahrendts announced her resignation from Burberry to take up a senior vice president position at Apple. The 53-year-old American, one of the most admired female bosses in the UK, is credited with turning a struggling brand into one of the UK's finest luxury exports.

Since Ahrendts joined the company in 2006, the value of Burberry has risen from £2bn to £7bn and in the last five years shares have rocketed 670% from 196p to 1,508p. She was the highest-paid CEO in the FTSE 100 last year, with a pay package of almost £17m (so it's a good job the company's doing well).
Burberry
Womenswear Spring/Summer 2014
Christopher Bailey, who will also retain his chief creative officer role, will take over as the firm's CEO when Ahrendts officially steps down next year.

For the full 2013-2014 year Burberry expects new openings to contribute low to mid single-digit percentage growth to retail revenue. Burberry also forecast a modest rise in the retail/wholesale operating margin from the 17.1% recorded in 2012-13.

'We remain focused on executing our retail, digital and marketing strategies in the all-important third quarter and in what remains an uncertain macro environment,' Ahrendts said.