Burger King beefs up with Indian expansion
The fast food chain has announced its plans to take India by storm...let's hope they add some more veggie options.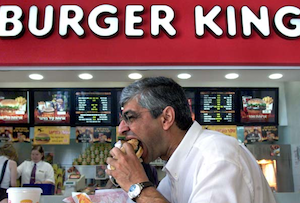 Burger King, the fast food chain synonymous with, well, beef burgers, has announced it will open stores in India – a country which largely eschews the consumption of beef and holds our bovine buddies in high esteem.

The US-based company said it has formed a joint venture with Indian-owned private equity and real estate group Everstone Group, which will help the burger joint create a 'viable strategy' for setting up shop in the fast-growing economy.

Everstone was set up in 2006 by two Indian ex-Goldman Sachs-ers – although it is based in Singapore, it is one of the largest developers of shopping malls and industrial warehouses in India, with a presence in 17 of its cities. That's not a bad start.

Despite the obvious challenge posed by its national dietary habits, Burger King is confident it can take a bite out of India's burgeoning fast food market – thought to be worth some $12bn (£7.4bn). Until now, the county's growing appetite for fast food has been served by local, independent vendors and the market for western chains is expected to grow to $1.2bn by 2016.

Unsurprisingly, Burger King isn't the only junk food giant to smell the opportunity. Domino's Pizza, Subway, KFC, Dunkin' Donuts and Burger King's golden arch rival McDonald's are already operating in the country.

No details are available on when the first Burger King will open its doors to fast food hungry Indians, but the dynamic duo of Everstone and BK will be working on developing the supply chain for the restaurants over the next few months. And presumably, working on creating a new range of vegetarian options and ramping up its spice factor – like the already successful Domino's has done.

If it doesn't, MT doubts the burger chain will survive serving hungry beef-eating backpackers alone.

Meanwhile, back in little old Blighty, BK has launched what can only be described as a direct attack on McDonald's and its veteran champion the Big Mac, with its new Big King burger. Apparently, the Big King made its first appearance on menus back in 1997 but for a limited time only; now burger fans, it's back for good.

The two tier 510 calorie sandwich has already met with some criticism though, if the Daily Mail is to be believed (and for a surprising number of readers, it is), the burger has, 'chewy, dry beef and soggy mayonnaise,' putting it at, 'a distinct disadvantage to the iconic and reliable Big Mac.'

That's one item the super-chain may choose to leave off its new Indian menus.