Burnout culture
Employee burnout is often associated with high-flying executives burning the candle at both ends. But new research suggests that company culture might be to blame just as much as the nature of the job or the personality of the employee.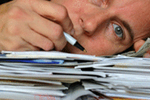 Lakshmi Ramarajan and Sigal Barsade from Wharton School of Management found over the course of their research that lack of respect was a major source of demoralisation for employees. "One of the biggest complaints employees have is they are not sufficiently recognised by their organisations for the work that they do," says Barsade. In other words, it might not be the job but the organisation that burns you out.
A company's culture can be defined as the "unwritten norms and values surrounding how employees are valued as individuals". The better an employee can identify with his or her company's culture, the less likely they are to grow disgruntled about their job or the people they work with.
Ramajaran and Barsade argue that such an atmosphere is conducive to less emotional stress and better work recognition, two factors which play a major part in employee welfare.
Most studies of employee burnout however, identify burnouts as stemming from the job itself (level of responsibility, hours worked etc) or the person (low stress tolerance, inexperienced). In terms of management, that often translates into the wrong person in the wrong job and ignores the context.
"I don't think employees would be surprised to learn that job burnout is not always 'their fault', but I do think that managers and/or corporate executives might be," says Ramarajan.
The Wharton researchers hope this new take on burnout might help companies tackle the problem differently. "Good versus poor management, in the form of organisational respect, may therefore have a clear and critical role in stemming burnout in human service organisation," concludes Barsade.
Source: More than job demands or personality, lack of organisational respect fuels employee burnout
Knowledge@Wharton, Nov 15 2006
Review by Emilie Filou