Published: 05 Mar 2020
Last Updated: 05 Mar 2020
The industry perspective
Lydia Yadi, commissioning editor, Penguin Business
If I asked you to close your eyes and imagine a stereotypical business reader or author, chances are you'd picture a white affluent man in a grey suit. Traditionally, business books were written by men for men, and while I'm happy to say that's largely not the case today, there are still many more male writers in this area than there are female. Nielsen Bookscan data shows that in 2019 only three of the Business Category Top 50 books were written by women including Doughnut Economics by Kate Raworth and The Great Economists by Linda Yueh. There were five in 2018. 
So why aren't there more female writers in the business space?
In order to address the imbalance between male and female business publishing, the push within the industry (and society more generally) has been to celebrate female CEOs and entrepreneurs by championing their experience of being a woman in business and focus on how they made it in a man's world. While there is, of course, a real need for memoirs and practical advice books of this kind, and I've published many of them (millennial pink covers included!), I think it's really problematic if most of the business books written by women are only centred on the experience of being a woman at work. The publishing industry needs to get better at finding academics, experts, entrepreneurs and change-makers who will explore broad business subjects that appeal to all readers, no matter the gender. 
Another reason I think there are fewer books authored by women is down to confidence. An interesting HBR study from 2015 shows that women who might start out ambitious actually get less confident as they grow more experienced and gain more knowledge. As we're looking for authors in the peak of their career, when they've amassed a brilliant reputation, created a great body of work or achieved something extraordinary, it's alarming to hear that women at this point in their career are feeling less confident than they did when they joined the workforce. 
When I approach some women about writing a book, they often doubt their work, ideas or views are clever enough or big enough for a book. Modesty and a lack of self-believe are huge barriers to women writing in this space, and it's something publishers, editors and agents need to help combat by making sure they are going out and finding female talent rather than waiting for it to come to them. 
As an all female commissioning team at Penguin Business, we've made it our mission to seek out a more diverse range of readers and authors from around the world. As the publishers of Anne Francke's Create a Gender Balanced Workplace, we have been actively creating opportunities to publish more women, and are delighted that we have reached our goal of creating a 50/50 gender split of our authors for 2020. 
The incredible female authors we are publishing this year include a range of leading academics and entrepreneurs including: Rebecca Henderson, McArthur professor at Harvard University; Anne Boden, founder and CEO of Starling Bank; Michelle Meagher, senior policy fellow at UCL School of Law; and professional development experts Sarah Ellis and Helen Tupper.    
Sarah and Helen founded Amazing If to make work better for everyone, and they are the authors of The Squiggly Career which debuted at the no.1 spot in the Sunday Times Business bestseller chart in January. They are only the third and fourth female authors to ever top the list.
If we're to see change reflected in the bestseller charts, bookshops and culture beyond, we need to commit to challenging stereotypes around who business books are for. We need to seek out diverse talent that reflects the nature of our society because if you can't see it, you can't believe you can be it.
---
The author's perspective 
Sarah Ellis, co-author of The Squiggly Career
"Everyone buys business books written by men. Only women buy business books written by women." A casual statement made to me which, certainly based on business bestseller lists, appears to be true. I've even had people suggest to me that we use our initials rather than first names on our book cover, to help us sell more copies. I'm embarrassed to admit I considered it for at least five minutes.
In 2016, when we first started to pitch our idea for The Squiggly Career, the assumption from agents and publishers, almost universally, was we were writing a book for women. We argued this wasn't the case: yes, we happened to be two women writers, but our book was intended for anyone who recognised that careers were changing (less ladders, more "squiggles") and wanted to invest in their own career development. There was no mention of women in our proposal and we weren't experts on gender dynamics at work. Once people realised we had no plans to write the next Lean In, interest quickly dried up.
We know we're not alone in experiencing this challenge, which so often leads to self-doubt and loss of confidence. Alexa Shoen, whose book Entry Level Boss is out in the UK in May, admits she kept thinking: "Why me? Am I smart enough? Am I expert enough? Do I deserve to be writing this book?" Emma Gannon, author of the Sunday Times bestseller The Multi-Hyphen Method, says you will never be fully "ready" to write a book or go for the promotion -  you have to try and be prepared to fail along the way. Fundamentally, women seem to need to work twice as hard to get their voice heard and their words read.
In her excellent book The Mother of All Jobs, Christine Armstrong observes it takes a village to raise your kids (which I'm discovering to be true); I think the same principle applies to writing a successful business book. I'm confident that the reason The Squiggly Career has made it to the number one spot in The Sunday Times bestseller list is because we had the right village around us. Former Twitter boss Bruce Daisley, who made it to the top spot with his book The Joy of Work exactly 12 months before us, dedicated an incredible amount of his energy into helping us do the same, for example. Instead of worrying about whether people would buy a book written by two women, our editor Lydia Yadi focused all her efforts on making sure our book offered valuable tools and insights for everyone.  
I'm cautiously optimistic about the future of business writing: I believe that readers want to hear from different and diverse voices. In turn, I hope that this demand propels publishers to follow the example set by Penguin Random House to set transparent targets on commissioning books from people who historically don't get the opportunity to be heard. As Stifel CEO Eithne O'Leary said in a recent episode of our podcast: "No-one has a monopoly on wisdom so we need to listen to everyone."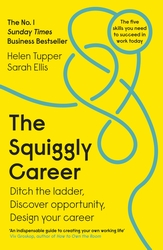 The Squiggly Career is published by Penguin Business, £14.99
We will be showcasing the country's remarkable, talented, visionary and ground-breaking businesswomen of all ages, at every level and across all sectors, and those companies and colleagues that are helping them to succeed. Enter the Inspiring Women in Business Awards here.
Image credit: Thomas Barwick via Getty Images