Business gives cautious thumbs-up to Coalition's first 100 days
Business groups are happy with the Government so far. But the tricky bit may be yet to come.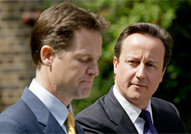 Corporate leaders love a good 100-day plan, so it's no surprise to see that business groups have been quick to give their tuppence-worth on the Coalition Government's first 100 days in office. The CBI, the IoD and the BCC have all given a cautious thumbs-up to the work done so far, although there were plenty of caveats about what needs to happen next. And that will be the only worry for Cameron, Clegg and co. Everyone gets an easy ride to begin with (even Gordon Brown managed it). In hindsight, these first 100 days may well turn out to have been the easy bit...

The CBI's Richard Lambert said his 'overall assessment of the government was positive', suggesting business has been impressed by the 'speed and direction of policy-making'; he reserved particular praise for June's 'bold and audacious Budget', and the focus on corporation tax and public-sector pensions. The IoD also welcomed the deficit reduction and school competition plans, while the BCC said signs were 'encouraging', with 'real, balanced progress' in key policy areas. But the three groups also highlighted a number of areas in need of further attention - notably regulation, international trade and regional development. So it wasn't an entirely glowing report card.

Still, generally speaking, it's so far, so good for the Coalition, which seems to be winning the argument on the economy: according to a Guardian/ ICM poll today, 44% are in favour of its cuts-based deficit-cutting strategy (compared to 37% who think they're doing a bad job). The question is, will it be able to maintain these numbers in six months or so, when the tax hikes and spending cuts kick in? The Government may have convinced people of the need for cuts in theory, but it could be a very different story when people are confronted with the harsh reality of austerity, and see the practical consequences of the Coalition's approach.

One reminder of this comes in a (dry-as-a-bone) new paper from the Department for Business Innovation and Skills today, which suggests that enforcing stricter capital requirements on the banks will push down lending and constrain GDP growth; it estimates that every 1% increase in their ratio of cash to assets will reduce growth by 0.04% over a 4.5 year period. Then again, since BIS admits that other factors could mitigate this decline, and since the numbers are all based on the kind of macroeconomic forecasting models that entirely failed to warn of the recent crisis, perhaps we shouldn't lose too much sleep over that.

So even if the first 100 days has been a (qualified) success for the Coalition, it can expect a lot more heat in the next 100 days, after the spending review - and then more again in the 100 days after that, as the VAT hike kicks in. It should enjoy its (relative) popularity while it can.
In today's bulletin:
Business gives cautious thumbs-up to Coalition's first 100 days
BHP massively hostile to Canadian fertiliser firm
Travellers Kiss goodbye to yet another airline
Are mobile phones making us ruder?
Letters from Malawi: Why are we thinking of cutting aid?