Business glitterati take a bow
The great and the good of UK plc were out in force last night for MT's annual 'Britain's Most Admired Companies' awards, with M&S CEO Stuart Rose and Tesco boss Sir Terry Leahy two of the luminaries on hand to pick up gongs.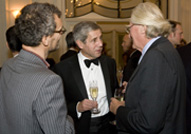 CEO Stuart Rose (shown here with Haymarket Group chairman Lord Heseltine and MT editor Matthew Gwyther) was there to collect the top prize, as Marks & Spencer was named as Most Admired for the first time in 16 years. Sir Terry's Tesco may have lost out narrowly to M&S in the battle for the top spot, but there was some consolation as he was again named Britain's Most Admired Leader - for the fifth year running. Luke Johnson provided the night's main entertainment with a rousing speech.
Click HERE to see all last night's award winners pick up their gongs.
Photographs by Julian Dodd