Business leaders face uphill struggle restoring trust
As the world's most powerful CEOs left Davos after this year's World Economic Forum, there is good and bad news for big business and CEOs, according to an Edelman global opinion survey.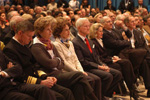 The public displays of worry from various business leaders speaking at the Alpine gathering perhaps reflect the paradox that, while trust in business is on the rise again amid increasing global prosperity, trust in CEOs is at rock bottom.
Only 18% of those surveyed by Edelman in the UK, France and Germany trusted CEOs, a full 10% behind trust in the average company employee. In the US the figure was 22% for CEOs, and 36% for employees. The poll sample is drawn from the top quartile of earners in each country.
Fears about the squeeze on middle-class incomes alongside rising executive pay was the most pressing economic issue facing the world, according to Lawrence Summers of Harvard, speaking at Davos. The general mood of hostility toward CEO excesses has been picked up on by US President Bush. During his State of the Economy speech on February 1, Bush, who came to office on a pro-business platform, called on companies' boards of directors to "step up to their responsibilities" and pay executives based on a company's performance.
Meanwhile a coalition of institutional investors has called on companies and regulators in the US to curb excessive executive pay. The investors have sent a non-binding resolution on the matter to the boards of 44 companies accused of paying for failure, including Citigroup, Coca-Cola, Exxon Mobil, Home Depot, Merck, Pfizer, Time Warner, UnitedHealth and Wal-Mart.
While US corporate governance reform such as Sarbanes-Oxley has helped restore the tarnished image of business that resulted from scandals such as Worldcom and Enron, the perception of the excesses of CEOs has if anything intensified.
But it appears that change is now in the offing, in the US at least. New tax legislation, expected to become law in the next few months, will close loopholes for executive retirement nest eggs and is likely to add some $800 million to executive tax bills over the next decade. The proposed legislation will also halt the deduction of fines and legal settlements from tax bills, a practice popular with Wall Street banks.
Meanwhile Home Depot and Pfizer are belatedly responding to shareholder protests over the packages taken by recently retired chief executives by slashing the pay and benefits of their successors.
Contrast this situation, then, with the growing trust across many developing and OECD markets in business in general rather than individual CEOs. In the US 53% of respondents said they trusted business, an all-time high. In Europe trust in business was 34%, in Russia 39%, in Brazil and Mexico it was 68% and China 67%. Even where business was less trusted - Europe and Russia - it scored far better than the media or government, as was the case in nearly all markets. The only institutions that matched or did better than business were NGOs, whose position improved particularly in Asia.
Next to providing quality goods and services, respondents said undertaking socially responsible activities was the most important way an organisation could build trust.
Richard Edelman, president and CEO of Edelman, said there had been a rebound in trust as corporate malfeasance was tackled, growth continued and business was seen to be providing solutions to problems facing society. "Business has a clear opportunity to assume a leadership role on major issues, from climate change to privacy," he said.
David Brain, CEO of Edelman Europe, said: "CEOs should continue to talk with elites, such as investors and regulators, but also provide critical information to employees and enthusiastic consumers."
Source:
Edelman Trust Barometer 2007
'Executive pay issue forms part of much larger argument', Tony Jackson, FT January 30.
'US executives face deferred income cap', FT January 29.
Review by Joe Gill