Business lessons from BrewDog
How did a craft beer company from Scotland go from a small market stall to a £19m turnover, fake bars in China and a US TV show in just six years?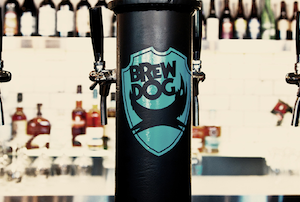 BrewDog is going great guns. The young craft beer company has just announced its fifth consecutive year of strong growth, predicting a turnover of £19m for 2013, up from £10.8m last year.

Having opened its first non-UK bar in Stockholm earlier this year, its ambitious expansion plans include bars in San Paulo, New Delhi and Berlin – all to open in the next six months.

(Anyone visiting Changzhou in China should be warned – the bar calling itself 'BrewDog' and brandishing the beer company's logo is a fake – 'We don't have any stores. We distribute our beers in China, mainly in Shanghai, but this is a fake unit,' said co-founder James Watt earlier this week. Flattering at the very least.)

Oh, and it also features in a reality TV show in the US called BrewDogs, which follows the founders as they travel across America convincing people of the virtues of craft beer. Clearly, it's doing something right.

Looking back at BrewDog's trajectory – here are some tips just in case you fancied following in its big, hairy footsteps.
1. Craft a way with words
BrewDog's irreverent co-founder James Watt doesn't mince his words. Not only is he not afraid and mud slinging and swearing – he's also gifted with a rather memorable turn of phrase.

His audacious wordsmithery makes him incredibly quotable and (unless you're on the receiving end of his blasts) incredibly likable.

Watt on the fake bar in China: 'At the moment I am bemused, kinda happy, a bit flattered and simultaneously terrified. Like a French foie gras goose.'

Watt on 'The End of History' BrewDog's beer sold in taxidermy bottles (see below): 'This is the beer to end all beers. It's an audacious blend of eccentricity, artistry and rebellion; changing the general perception of beer, one stuffed animal at a time.'