Business of Sport Special: Two times a winner
Sporting heroes can struggle to find a role that matches up to their glory days once they've hung up their boots. But the determination, focus and will to win they showed in their first careers can take them to the top in business too.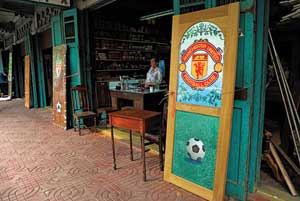 There is a famous old photograph of Fran Cotton in action for the British Lions. He is emerging from a ferocious ruck, his face coated in mud, his hair matted with grime, the only thing visible in the murk the whites of his eyes, which gleam with manic intensity.
It's an image that summed up not only his sport but his role in it: a wholly physical battle of attrition seemingly involving very little use of the brain. It is unlikely to have occurred to anyone at the time that, 35 years after the picture was taken, Cotton would have become one of Britain's leading retail magnates.
Yet he will tell you that the rigours of rugby, the lessons he learned putting his head into places no sane man would venture unarmed, helped turn his mail order business Cotton Traders into a company that bucked high street trends to make a profit of £4.7m on a turnover close to £80m last year. Discipline, teamwork, goal-setting, not to mention bravery: crucial attributes for both an international prop forward and a businessman.