Business travellers help Whitbread to tasty profits
Cost-cutting isn't bad news for everyone, judging by the latest results from Whitbread's Premier Inn today...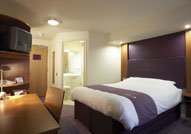 As the credit crunch bites, budget hotel chain Premier Inn actually seems to be cashing in from UK plc's attempts to trade down and cut costs. According to Whitbread's latest results statement, bookings via its Business Account card last quarter were up 40% on last year's figure, leading to a healthy 11% increase in like-for-like sales. Clearly accounts departments have decided that its £50-a-night rooms are perfectly capable of doing the business for their travelling hordes, rather than a room at the Ritz. Although we're not quite sure why it's taken them so long to work this out...
But although Premier was the star of the show, the rest of Whitbread's business seems to be doing pretty well too. 'The group has started the new financial year with strong growth in all of its businesses,' said chief exec Alan Parker today, as he reported an overall jump of about 15% in total sales (including a 7% hike in like-for-likes). Coffee chain Costa did particularly well, with sales up 28% thanks largely to an aggressive store-opening programme – it's recently tied up franchise deals in Hungary, Czech Republic, Slovakia and Singapore, which means it's less dependent on the slowing UK market. It might be selling less latte in London, but it's clearly still milking the market among the Magyars.
Even its pub restaurants arm – which you'd expect to be the worst affected by the spending slowdown – enjoyed a decent quarter, with like-for-like sales up 3.9% and covers (i.e. the number of people eating) up nearly 7%. Again, this seems to be because Whitbread has been successfully wooing customers with cut-price options – encouraging people to eat more white meat (a fillet steak in a credit crunch? crazy) and introducing cheap meal deals.