Businesses failing to protect us from ID fraud
Identity fraud is growing - but we still haven't really got the hang of shredding sensitive documents...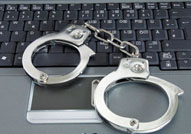 These days most of us know at least one person who's been a victim of identity fraud – usually after having their personal details pilfered by some internet-based ne'er-do-well. And the bad news is that the problem seems to be getting worse rather than better: figures released today (to coincide with National Identity Fraud Prevention Week) show that it's costing the UK economy a massive £1.2bn a year. And judging by the fact that 97% of staff apparently don't trust their employer to handle sensitive data, it looks as though businesses bear much of the responsibility for this…

So why do we have so little confidence in our companies? Well, the organisers of Fraud Prevention Week reckon it's because most are pretty sloppy in the way they handle data: research on their behalf by Fellowes found that 36% of companies don't have any kind of policy for handling sensitive documents. Indeed, around 34% of staff just dump them straight into the bin, to be plucked out by any old passing reprobate – presumably because they can't be bothered putting them through a shredder (or something equally destructive). So if you're ever walking round a company office, check out the nearest bin – there's a good chance you might find something interesting.

As for the cost of all this – well, that £1.2bn figure probably seems a bit theoretical, so here's another way of looking at: nearly 60,000 of us have fallen victim to identity fraud so far in 2009. That's 36% up on the same period last year, and equates to over 2,000 people per day. As consumers, we make many of the same mistakes as companies: often we fail to shred sensitive documents, or report missing ones. In fact, most of us still seem to be a bit lax about the possibility of identity fraud, even though it's still on the increase – perhaps on the assumption that we'll always be able to claim the money back somehow.

For businesses, however, the problem is not necessarily just about financial losses (though the survey found one in three SMEs have been impacted by fraud lately). If you lose a large amount of customer data, it's going to be very hard for those customers to entrust you with it in the future – and given how easy it usually is to switch providers these days, that could be a fatal error. Losing money in the current climate is bad enough; losing your hard-earned reputation is even worse.

In today's bulletin:
Pound hammered again as fuel drags inflation to five-year low
Ryanair comes out fighting after BBC 'hatchet job'
Editor's blog: ITV, the search from hell
Women's pension pots looking lighter
Businesses failing to protect us from ID fraud