Buying up Britain
FEATURE: The sale of Cadbury to Kraft made many think overseas ownership of UK firms has gone too far. But plenty of businesses based here are thriving thanks to foreign investment. What are the myths and realities of our takeover culture?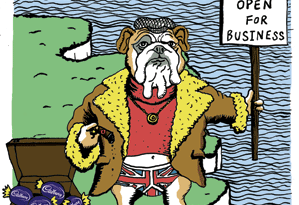 In their 1980s classic Shopping, the Pet Shop Boys bemoaned Mrs Thatcher's privatisations: 'We're buying and selling your history,' sang Neil Tennant, 'everything's for sale.' He was right. Privatisation started with the National Freight Corporation and, through the 1980s, British Gas and British Telecom were flogged too, followed by British Airways, British Rail and British Steel. It was a signal that the UK was open for business, and we've never looked back. Soon our big companies were also being auctioned to the highest bidders, and that meant that it was often foreigners doing the s-h-o-p-p-i-n-g. ICI, Rolls-Royce and P&O were among the crown jewels that went into overseas hands. The list goes on and on. Now more than 40% of the UK's listed firms are foreign owned.
This worries quite a lot of people. Some Union flag-wavers feel that we should be a buying nation, not a selling one, and that these deals are indicative of decline, or at least that the entire country is in hock to a slightly disreputable, spivvy City culture. In 2008, Private Eye summed it up with the headline: 'UK Sold to France: A Good Deal For Britain, Says Brown'.
Others have different concerns. Alex Brummer, City editor of the Daily Mail, recently wrote a book called Britain for Sale, in which he worries that when foreign firms buy British ones they take jobs out of Britain, pay less tax and are less accountable. But is any of this true? Is it really a bad thing if our businesses are owned by the Germans or Chinese? When there is a risk that a British firm will become overseas property should we have a national whip-round, like we do when foreigners eye up our Titians?