Cable lays into Threadneedle Street 'Taliban'
Vince Cable has accused the Bank of England of 'Taliban'-like behaviour. What will new governor Carney make of it?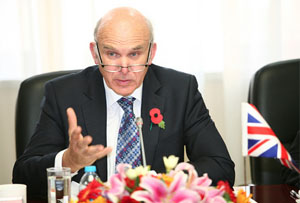 Another corker from business secretary Vince Cable, who has dubbed a faction of the Bank of England the 'capital Taliban' because it has imposed 'excessive' burdens on banks by demanding they raise the amount of capital they hold.
In an interview with the Financial Times, Cable said capital regulations imposed on lenders by the Bank of England had 'held back' small business lending.
The argument goes that by forcing banks to hold more capital, the BoE is preventing them from being able to lend money - precisely what we don't need when the economy is floundering. Received wisdom may be that having a larger capital buffer will protect against future Lehman Brothers moments - but at a time when businesses need cash, it helps if banks have the money to lend.