Cable sticks the boot into the banks - again
Moaning about the banks is becoming something of a hobby horse for the new business secretary.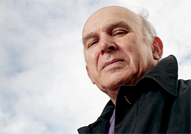 Vince Cable has never really been shy about coming forward when it comes to the banks. He certainly didn't mince his words when interviewed for tonight's BBC Panorama programme about the banks' claims that they are lending plenty of cash to small businesses, saying their assertions were 'misleading'. He went on to say that forcing the banks to change their practices would be a key test of the coalition. Strong words indeed.

It's safe to say that the new business secretary is generally pretty unimpressed with the banks' treatment of SMEs. They have made it more difficult for them to apply for loans and are failing to meet demand, he complained. But it was when presented with statements from RBS and Lloyds which said that their loan application approvals currently stand at 80% that Mr Cable really blew his top. 'This is misleading,' he raged. 'I think they are raising the hurdle. All the evidence from business, from the Institute of Directors and other bodies, is that banks are not lending as much as is needed.'

So, how does he plan to persuade them to part with more cash? The Treasury and the Business Department will launch a consultation this week to discuss whether or not it's a good idea to impose lending targets on the semi-nationalised banks, but Cable reckons that this doesn't go far enough. Instead he has called for 'mandatory action' to force Lloyds and RBS to lend. No softly-softly approach round here then…

But SME lending wasn't the only reason for Cable's general unhappiness with the banks. He also accused high-street banks of 'ripping off' customers after it was revealed that some are charging up to 167% on unauthorised overdrafts. He also questioned the morality of bankers' bumper pay cheques and described the bonus culture as 'unacceptable'.

At heart, this comes down to the question of what banks are there for – to provide a profit, or to provide a public good? 'Both' is the answer – but striking a balance between the two can be tricky.

While we do not doubt his dedication to the cause, Mr Cable didn't exactly offer a lot of detail on how he intends to ease the flow of credit from banks to businesses. And it's not going to be easy. After all, his predecessor Peter Mandelson spent two years trying to do just that. Let's just hope, for the sake of the SME community, that Cable fares a little better.
In today's bulletin:
Fraud costs record £1bn so far this year
Boeing's Dreamliner touches down in UK
Cable sticks the boot into the banks - again
Sweet £658m deal makes Ward cocoa king - bar none
Salary increases 'below inflation'