Cable's bonfire of employment bureaucracy: The reaction
On Wednesday, Vince Cable announced highly controversial changes to tribunal and redundancy law. Here's what the business world had to say.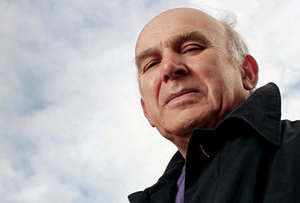 Unsurprisingly, most employers are over the moon. They've been clamouring for government to untangle them from the sticky bondage of employment red tape for years. And we've got some shiny stats to prove it. A recent survey by RSM Tenon shows that 62% of entrepreneurs believe that the UK's employment laws hinder business growth, 40% want the government reduce regulation to support entrepreneurship in the UK (tick), and more than two-thirds believe that current policy does little to support entrepreneurship.

Kavita Oberoi, founder and managing director of Oberoi Consulting, sums up the general feeling among business owners: 'I understand that regulation is important but I feel sorry for new businesses that are setting up at the moment because it's just more and more red tape. It seems as if there are new acts every single day about what you can and can't do.'

But, MT is nothing but balanced. Here's the spread of opinion on the proposed changes:

'For once it looks like Vince has got his cables wired up properly,' says Kirsty Burgess, co managing director of HR consultancy Reabur. 'We have frequently highlighted that the tribunal system is creaking under the tidal wave of vexatious claims made by employees who mercilessly "game" employment law for their own gain. Employers across the UK will be delighted with the proposals outlined today.'

Ann Bevitt, partner at law firm Morrison & Foerster's London office, is less impressed: 'The employment law reforms are a mixed bag,' she says. 'The package, which includes both pro-employee and pro-employer changes, seems to be trying to please everyone, but risks pleasing no-one. The reforms are an attempt to boost the jobs market, but in reality will make little difference to whether or not employers increase hires".

Charlie Mullins, star of Secret Millionaire and founder of Pimlico Plumbers, couldn't disagree more. 'Quite simply employers want less strife,' he says. 'Vince Cable's proposals will actually help keep a lot of people in work rather than setting them up for the sack.

'If these proposals allow me to have a more honest and real relationship with staff, then it's a no brainer – bring them on. Why are the Unions assuming employers like me are in favour of cutting employment law red tape because we're evil and sadistic individuals who want to make vast profits from near-forced labour? Sacking people on a whim, like a modern-day business version of a tyrant king, quite literally does not pay dividends.'

On the notion of 'protected conversations, Anthony Fincham head of employment law at CMS Cameron McKenna, dubs the proposed reform an 'eminently sensible idea'. 'The application of the without prejudice rule is difficult and has created real problems in the employment field.' He says. 'So much better if employers can have frank exchanges without a narrow script carefully couched with an eye to litigation risk."

Fiona Blakey, an employment lawyer at law firm Halebury, broadly supports the changes but warns government to tread carefully on redundancy reform: 'A 90 day consultation period where there is a rigid obligation to have a minimum period before which any dismissal can take place in a collective consultation can be artificial and place undue burden on employers,' she says. But government must not confuse the issue by adding a raft of new legislation around the reforms.
'If changes are to be made it should replace what exists currently, be comprehensive, contained in once place; be clear, definitive, easy to use and to understand – this is the real challenge faced by the government.'

Tom Walker, head of employment law at Manches law firm, is worried that Acas staff won't have the knowhow to deal with their new remit. 'If Acas is to be used in this way it's personnel will need to be properly trained mediators,' he says. 'Too often the success of going to Acas for advice or assistance depends on the expertise, knowledge and ability of the individual concerned which can vary tremendously."

On unfair dismissals, legal eagle Fincham adds: 'Raising the normal unfair dismissal qualifying period from 1 to 2 years only gets us back to where we were before 1999. Employers will welcome a longer period in which to make up their minds. There might conceivably be a challenge by reference to European discrimination law on the basis that this creates a higher hurdle for women who statistically move jobs more often. I doubt the more radical idea of a no-fault dismissal will progress far.'

What do you think of Vince Cable's reforms? Have your say below.