Cadbury banging the drum
Cadbury Schweppes has given the most chilling reminder yet of the consequences of rising commodity costs, revealing that it's going to start charging us more for a bar of Dairy Milk next year.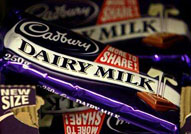 Like most food producers, Cadbury has seen commodity prices continue to creep up during the second half of this year. And it expects the cost of dairy, oil and cocoa to rise by as much as 6% in 2008 – which means we'll be paying higher prices for our favourite chocolate bars.
This disturbing news notwithstanding, it was actually a pretty positive update from Cadbury this morning. CEO Todd Stitzer said that he expects confectionery sales to increase more than the 4-6% it was expecting, despite the higher costs. Its chocolate bars are flying off the shelves in the UK, thanks partly to the Phil Collins-backed drumming gorilla advert – recently named as the TV advert of the year – while the relaunch of the Wispa bar (brought back by popular demand) has also boosted market share. Elsewhere it's been all about gum – its chewing gum business is motoring all over the world, both in developed markets and emerging markets.
Stitzer and Cadbury Schweppes haven't had much to shout about recently. After a salmonella scare took a £30m bite out of profits last year, this year it was forced to cancel a planned spin-off of its beverages arm when the financial markets went awry. In an attempt to trim its cost base, it's also cutting thousands of jobs and shifting some of its production to eastern Europe – a move that apparently bought film director Ken Loach out to do some rabble-rousing last weekend, according to the papers.