Cadbury bid defence is a Fudge, says crotchety Kraft
Kraft has hit back in its war of words with Cadbury, insisting the latter's bid defence is full of holes.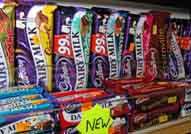 Cadbury may have made it perfectly clear that Kraft's advances are entirely unwelcome, but the US food giant isn't taking no for an answer. In response to Cadbury's strongly-worded rejection of its offer yesterday, it's released a statement of its own today, questioning some of the numbers in the defence document. 'We have heard nothing that surprises us,' snorted Kraft boss Irene Rosenfeld, insisting that the document only reinforces the rationale behind the deal. And it's certainly right about one thing: for Cadbury shareholders, trusting in the management to deliver the promised results requires a leap of faith...

In yesterday's defence document, Cadbury promised shareholders revenue growth of 5-7% a year, plus improved margins and double-digit dividend hikes. But Kraft has highlighted four particular areas that it reckons were glossed over. How exactly is Cadbury going to deliver volume sales growth, given that it hasn't managed it this year? How can it boost margins without spending more money on restructuring (since spending thus far hasn't delivered the expected cost savings)? Why hasn't it given some indication of its expected costs for 2010 – or, for that matter, its expected earnings? And what is its underlying cash flow situation, if you don't count disposals etc? (This matters because it will dictate the size of the divi pot)

In other words, Kraft's basic argument to shareholders is: what makes you think Cadbury will be able to deliver the long-term numbers it has promised, and – for those shareholders that aren't planning to stick around that long – what about the next year or so? Cadbury, it claims, is 'asking shareholders to put their faith in possible future value creation based on a set of long-term targets, never before achieved by Cadbury and subject to significant risk and uncertainty'. Whereas by contrast, its own offer provides 'value certainty and upside potential', with 'the potential for meaningful revenue synergies and significant cost savings'. (Anyone for business buzzword bingo?)

Kraft is undoubtedly right to suggest that Cadbury's management are trying to sell potential here, rather than reality. On the other hand, these things are all relative. Today's statement is hardly brimming with ambition – Kraft's is merely arguing that its offer is a safer bet, which does little to address the central criticism that its low-growth conglomerate model is out of kilter with Cadbury's culture. Or of (potential rival) Hershey's, for that matter. And if shareholders see this as a choice between minimal growth with Kraft and potentially high growth going solo, they might well be inclined to take a punt on the bigger upside.

In today's bulletin:
BA falls as turkeys vote for Christmas strike
Cadbury bid defence is a Fudge, says crotchety Kraft
Fuel pushes inflation to six-month high
Editor's blog: Painful changes at BA and Royal Mail
Is there trouble ahead for price comparison sites?