Cadbury hotting up as bidding war finally looms
Rumours of solid interest from both Nestle and Hershey pushed Cadbury shares to a record high today...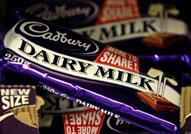 Another good morning for Cadbury: not only is US rival Hershey trying to put together a bid for the UK chocolate-maker, but giant Swiss food group Nestle is also now supposedly sniffing around. With Kraft still in attendance, we finally have a realistic prospect of a bidding war - which is why Cadbury's share price has gone through the roof this morning, hitting a record high of 819p. Management will be pleased because it looks like they might have some other options should they be forced into a deal; and shareholders will be pleased because whatever happens, it looks like they're going to get more than the 724p a share currently on the table from Kraft...

Hershey emerged as a serious bidder at the back end of last week: according to the Wall Street Journal, it's looking either at a tie-up with Italian firm Ferrero, or possibly scraping its pennies together for a solo bid of £10bn+. That's more than the £9.8bn Kraft has offered - and as a pure-play confectioner that already has a relationship with Cadbury (to flog its products in the US), it looks like a much more obvious strategic partner than Kraft.

But it's the news of Nestle's interest that has really stirred things up this morning. Although it's said previously that it would only be making 'tuck-in' acquisitions this year (Cadbury's may be smaller, but it's definitely more than a mouthful), the prospect of a stronger Hershey might have persuaded Nestle otherwise. With annual profits of over £10bn, the massive Swiss firm definitely has the firepower to swallow up Cadbury; its biggest problem is likely to be the ever-alert competition authority, who'd presumably be concerned about Nestle making every bar of chocolate in your local newsagent.

Whether or not either comes up with a bid, this will certainly krank up the pressure on Kraft: its offer looked pretty slim before, and that was when there were no other interested parties. Now it may need to raise its bid (or at least include a bigger cash component) to have any hope of getting it past Cadbury investors. Kraft may be able to sweet-talk the unions - who it's meeting this week - if it's serious about keeping Cadbury's Keynsham factory open. But shareholders will be a much tougher proposition...

In today's bulletin:
Microsoft to form anti-Google alliance with News Corp?
Cadbury hotting up as bidding war finally looms
CBI: Why the recession will change business for good
Psychology at Work: How to Cope with Bullying Bosses
MT Expert's Ten Top Tips: Generate leads in a recession