Cadbury says hard cheese as Kraft goes hostile
Having seen its first bid for Cadbury rejected as too low, Kraft finally returns with, erm, the same bid.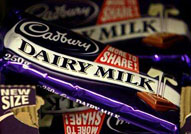 Better late than never: US food giant Kraft has finally come back with a second bid for UK confectioner Cadbury - or to be more precise, it's formalised its first bid, which has already been rejected by the Cadbury board as being far too low. This time round Kraft is hoping for better luck by appealing directly to shareholders - and we're sure its refusal to up its bid will go down well with its own investors, who have been warning Kraft against over-paying. But since the offer is now worth about 4% less than it was back in August, Kraft's chances of success still look pretty slim...
Kraft's original offer for Cadbury back in August was worth about 745p a share - i.e. just over £10bn. But because Kraft's own share price has since gone down, reducing the value of the stock component of the deal, it's now worth about 717p a share, or £9.8bn. Not surprisingly, Cadbury's board - which rejected the first offer on the grounds that it 'fundamentally undervalued' the business, arguing its prospects were dismal within Kraft's 'low-growth, conglomerate model' - isn't too keen on this one either. 'The repetition of a proposal which is now of less value and lower than the current Cadbury share price does not make it any more attractive,' sniffed chairman Roger Carr today, calling it a 'derisory' offer.
However, Kraft seems determined not to dig any deeper. No other bidders have emerged to push the price up, and big investors like Warren Buffett have been hinting that the original offer was quite high enough already (though it's hard to take lessons in thrift from a man who's just spent $27bn on a giant train set). So instead, it's going directly to shareholders, presumably hoping that they'll have a slightly less bullish view about Cadbury's stand-alone prospects than the board. But Carr has apparently been doing the rounds to try and get investors onside, and now the bid is languishing so far below the UK firm's current share price (of about 760p), it looks even less compelling on purely financial grounds.

It's naturally tempting to hope that this great British company can have an independent future (and naturally, Cadbury has been keen to plug this angle). But even if Kraft does end up walking away, it won't be the end of CEO Todd Stitzer's problems. Other large rivals might start sniffing around, now Cadbury is effectively 'in play'. And if they don't, and there's no prospective bidding war to bolster its share price, he'll be under much more pressure to deliver better performance, so investors don't feel they've missed out. Equally, after Kraft suggested it might reverse the decision to cut 500 jobs in Keynsham, his cost-cutting plans will also be under the spotlight. Either way, it's going to be a tricky few months for Cadbury...