Call centres careless with customer info
Hold on to your digits - over 95% of call centres are breaking the rules for storing credit card details.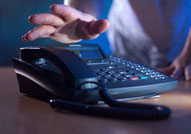 That's according to a new survey from call recording company Veritape, which found that only 39% of call centre managers know the industry rules surrounding how to store customer information once a call has been recorded.
As an example, a mere 3% of those surveyed wiped credit card numbers from recordings of phone calls - leaving a huge amount of sensitive data sitting unedited and available on the servers of the nation's call centres.