Call that green, Darling?
Politicians need to raise their game if the people of Bangladesh are going to avoid a watery fate...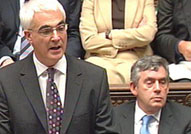 This week a report from Greenpeace said that large parts of South Asia could be underwater by the end of the century, thanks to rising sea levels brought about by climate change. So the eventual cost of us spewing out more greenhouse gases could be that 75m Bangladeshis end up homeless.
Ever since Gordon Brown commissioned Sir Nicholas Stern to investigate the economics of climate change, the Government has spent a lot of time boasting about its green credentials. But has it actually done anything to help? Take Alistair Darling's Budget earlier this month – it was billed as a 'green budget', but it looked suspiciously like he was using the environment as a handy justification for tax hikes, while failing miserably to address the real issues. For example, there was a tax on gas-guzzlers but no increase in fuel duty – so presumably the focus can't be on total carbon emissions after all?
Richard Clarke, a director of consultant Arthur D. Little's Sustainability and Risk Practice, admits that the Budget was 'a few shades lighter than many expected', but points out that (like most British businesses) the Chancellor's hands were tied. 'Long-term sustainability plans are more difficult to introduce and implement in the face of short-term financial pressures'. It's a bit hard to increase fuel prices when you're worried about spiralling inflation, for instance.