Your call could not be answered
Call centre workers take more sick days than anyone else in the UK. No wonder we spend so long on hold...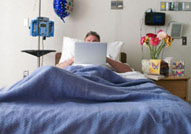 Customer service operators (including call centre staff) are more likely to call in sick than any other profession, according to new figures from the Office for National Statistics. Its latest Economic and Labour Market Review found that nearly one in 20 had taken at least one day off in the week prior to the survey – twice as many as the national average. We wonder if that's anything to do with the fact that these jobs don't tend to be very well-paid or fulfilling?
Sick leave is a serious business for UK plc, particularly at the moment. According to the ONS, 5.8m working days were lost to absence last year – which the CBI reckons cost the economy nearly £20bn. At a time when output is sliding across the board, that's less than ideal. And since sick leave is often correlated to stress levels, there's a good chance that it could get a lot worse in the coming year…
With a sickness absence rate of 4.8%, customer service staff comfortably topped the list – ahead of textiles workers on 4.3% and admin staff at 3.9%. And it's easy to see why. Simply Switch entrepreneur Karen Darby, who knows a bit about call centres, has been telling the papers that the figure is a reflection of the kind of people who work there: 'They are notoriously underpaid, and if you pay peanuts…'. It also tends to be a much more transitory workforce – understandably, staff don't see fending off irate callers as a job for life.