Cameron calls up Lord Young as enterprise tsar
The new Lord Sugar has been asked to produce a 'brutally honest' report on the Government's small business policies. But he won't find it easy...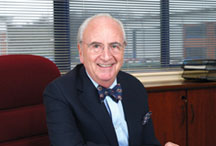 SMEs have a new champion in Westminster: David Cameron has asked Lord Young, the former trade and industry secretary (and ex-exec chairman of Cable & Wireless) to take up Lord Sugar's old role as Government enterprise tsar. The PM has asked his Lordship to produce a 'brutally, brutally honest report' that will - inter alia - help small businesses get Government procurement contracts and end the public sector's 'institutional bias' against them. But despite the fact he's only been in the job ten minutes, Lord Young already seems to be on a collision course with the Government's other business adviser, Sir Philip Green. A sign of the Coalition's conflicting priorities...

The Prime Minister says he wants 'nothing less than a wholesale change in attitude' from the Government toward SMEs. In his review, Young will apparently look at encouraging enterprise, doing away with red tape, helping small businesses get access to Government finance, and improving the way Government listens to SMEs when it's coming up with policy. Some of the ideas already suggested include upping the amount of time someone has to work for a company before they can claim unfair dismissal to two years (thus protecting small firms from potentially crippling lawsuits).

But it won't be plain sailing. Young already seems to be at odds with Topshop tycoon Sir Philip Green, who has just produced a report for the Coalition on streamlining procurement practices. One of Green's recommendations involved the Government making the most of its buying power by replacing its five-day payment pledge with the sort of 30 (or even 45/ 60/ 90) day terms favoured by large companies. Young, though, dismissed it, arguing on the Today programme: 'We are not a business, we are running a country, and it is in the Government's interests to see prosperous small businesses'. For what it's worth, we couldn't agree more – as we argued recently in our feature 'Why can't Government be more like business?' But it's not going to help the Government save money.

The appointment comes as Vince Cable prepares to host a summit to 'promote' SMEs; the business secretary says he is planning to 'reaffirm' the Government's target to award a quarter of contracts to small and medium-sized businesses. The Federation of Small Businesses says at the moment, only 16% of contracts go to small businesses – partly, according to spokesman Stephen Alambritis, because Government procurers become 'starry-eyed' when confronted with the heads of big business.

It's a tough gig for Young. With cost-cutting the name of the game in Whitehall, he may find it hard to persuade Government departments to give business to SMEs, if they can't offer the kind of economies of scale their bigger rivals can. Still, as trade and industry secretary in Margaret Thatcher's Government, the Iron Lady once said of him: 'Everyone else brings me problems. David brings me solutions'. So if he can't do it, maybe nobody can?

Will Lord Young be a success as enterprise tsar? Or is this just more empty rhetoric? Let us know what you think below.