Cameron: defending EU policy on the fly
David Cameron's CBI conference speech this morning was more triumphant than usual - but still sought to defend government policy on EU and HS2.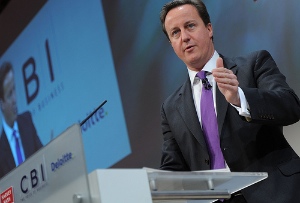 - Read MT's profile of CBI president Sir Mike Rake

MT is told David Cameron didn't have a pre-prepared speech when he addressed the CBI conference this morning. Presumably because, as he pointed out, it's the eighth time he's addressed the conference. Also (as he didn't point out), his tune has barely changed in all the time he's been doing it: the UK needs to keep its focus on deficit reduction, yada yada yada. He knows the whole thing off by heart now.

This time Cameron's chest was, admittedly, a touch more puffed out than it has been in recent years: 'I can report to you an economy that is forecast to grow three times faster than Germany this year,' he said. 'There are one million more people in work compared with three years ago, and 400,000 more businesses.'

That said, he clearly felt businesses still needed convincing in a couple of areas: firstly, infrastructure - HS2 in particular. Where the emphasis has in the past been on speed, Cameron changed tack: these days it's all about capacity.

'The West Coast Main Line is full. We need to build another West Coast Main Line. The choice for us is do we build another old-fashioned, Victorian-style railway or do we build a modern high-speed line? The cost difference is 9%.'

'Building a new line will not just make it faster to get to Birmingham or Manchester, but will have enormous knock-on effects for other parts of the country,' he added, hopefully. 'London to Shrewsbury, for example.' Mmm.

His other point of focus was Europe: this morning the CBI published a 180-page report showing the UK's membership of the EU benefits every household in the UK to the tune of £3,000 a year. 'The single market is fundamental to our culture,' said John Cridland, the organisation's director-general.

That's not exactly what Cameron, who has an in-out referendum on EU membership slated for 2017, would have wanted to wake up to. But the message from the organisation was that the UK must stay in the EU if it wants to compete.

'We don't think it's right or practicable to divide Britain from Europe and simply go for the UK having its powers back,' said Cridland. 'European competitiveness matters as much to Spain and Germany as it does to Britain.'

Cameron's language suddenly became rather meek: the Coalition is renegotiating its position in the EU, and only then will it be appropriate to have a referendum.

'The argument I've made is not some short-term strategic play. What I've put forward I believe has the overwhelming support of business… only then can we win'.

Whether, by 'win', he meant 'benefit economically' or 'stay in the EU' isn't entirely clear. We just hope Cameron's EU policies are a little more thought through than his speeches...