Cameron to take on Labour over CGT
Can the Conservatives finally establish themselves as the pro-business party? After leader David Cameron pulled out of a scheduled appearance at the CBI's annual conference last year to visit the British troops in Basra, his credentials were questioned - one year on, he has the chance to strike another telling blow, in the battle over capital gains tax reform.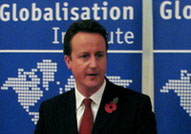 After being robbed of the chance to see the Tory leader go head-to-head with Gordon Brown last year, the CBI will be happy to see both men on the programme this time. Meanwhile after last year's no-show, Cameron has a chance to put the record straight – and with Labour reeling from the Northern Rock crisis, not to mention the lost CDs, he's probably never had a better chance to position the Tories as the party for business.
Darling's controversial CGT reform – which involved abolishing taper relief on capital gains tax, meaning that all business owners will pay 18% tax on the proceeds of their business sales – is likely to be the main battleground.
Cameron's speech, which was widely trailed in various weekend papers, will apparently include some of his strongest words yet on CGT: 'If the Chancellor fails to abandon or radically alter his approach, we will fight his tax hike on Britain's entrepreneurs every step of the way, both inside and outside Parliament.' He will apparently go on to say: 'The best thing he could do is stand up, admit he has made a mistake and abandon his ill-conceived plans.'