Cameron rejects EU treaty and we go it alone
Our Prime Minister emerged from 10 hours of talks this morning to announce that Britain will not be submitting to new EU rules. Is this the dawn of a new era of UK independence? Or has Britain just become the Billy no-mates of the EU?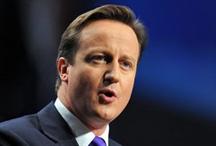 It's actually happened. Two decades after the ink dried on the Maastricht Treaty, Britain is pulling away from Europe in a bid to protect the City from new regulation and taxation from Brussels.
Our alliance with the EU hung on the stipulation that should the treaty be changed or updated, we could run for the hills. When German chancellor Angela Merkel and President Sarkozy last night attempted to make sweeping changes affecting all 27 member states, Cameron was off at a sprint. It was a 'tough decision but the right one,' he says.

We are not the only nation to refuse the 'new fiscal compact' and 'economic policy coordination'. Hungary has also pulled out: Viktor Orban, the Hungarian prime minister is our new best friend. And he currently has the IMF crawling all over him. Sweden and the Czech Republic are both holding consultations back home to work out whether they're in or out. But 23 European nations are definitely in, signing up for greater central control over their national budgets.

So why did the treaty changes spook Cameron so? Well, firstly, there was the possibility that under the new contract, Britain would be forced to adopt the much-derided financial transaction tax. The City would be the biggest loser in Europe should such a levy be implemented, with possibly crippling consequences to our finance industry. Cameron demanded veto on issues of financial regulation like the FTT. Merkel and Sarkozy flatly refused.

No surprises there. There's no love lost between the French president and our fearless leader, boxed in by his incresingly confident Euro-sceptic back-benchers. Sarkozy has made no secret of his dislike for Cameron and his cynicism over his involvement in the Summit: 'You cannot have an opt-out and then ask to participate in all the discussion about the euro that you did not want to have, and which you also criticised,' he said. This Anglo-French divide will be widened yet further by the latest developments.

Cameron has been more diplomatic about the split: 'We wish them well as we want the eurozone to sort out its problems, to achieve stability and growth that all of Europe needs.' But did he make the right decision to wash his hands of the eurozone? While, in the short term, Britain is freed from any further regulatory shackles, will the integrated EU become increasingly frosty to our little island? Is there a possibility that the euro itself could be subject to new rules, sabotaging our trading ability?

These are all big 'if's. For now, we can cling to our AAA rating, and concentrate on getting our own house in order. One thing is for sure, this story has a long way to run. Try to take your mind off it as you enjoy the weekend.
14:07 UPDATE - Hungary is back at the negotiating table with Brussels. Looks like Britain might be making a stand on its own.