Cameron threatens EU budget veto as leaders reach banking union deal
The PM has threatened to veto a new European budget if it does not include cuts to wages for the top-earning officials in Brussels. Meanwhile, banking union is underway.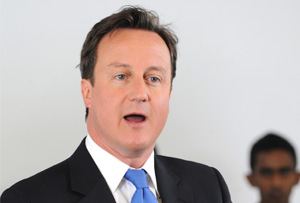 It's true David Cameron has been promising to 'get tough' with the EU, and now he had made clear that he wants European Commission staff sacked and the 6,000 officials on six-figure salaries to get wage cuts. And all of that before he'll even agree a budget. He said: 'If there isn't a deal that's good for Britain, there won't be a deal. We can't have European spending go up and up and up when we're having to make difficult decisions in so many different areas.' Brussels will need Britain's consent for any budget increases to be implemented.
Cameron pointed out that 16% of staff at the European Commission earn more than €100,000, and hinted that this was unacceptable. He added: 'What we've done in Britain is we have cracked down on central administration, the cost of Whitehall, and on the numbers of people employed to release money for the things that are more important. We need to see in the budget proposals that sort of rigorous approach.' His stubbornness – if he follows through with it – will save Britain an extra £10bn worth of EU contributions over the next seven years.
Meanwhile, the Franco-German axis is working on creating that unitary fiscal policy that everyone has been banging on about for ages now. The French president Francois Hollande said that a deal to start building a European banking union by the start of next year will help the eurozone to speed its way out of the current mess with closer integration. It has already been agreed that such a union will give the European Central Bank the power to intervene in the activities of any of the 6,000 banks that exist within the eurozone.