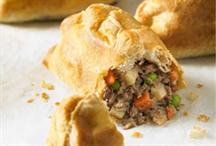 Cameron's pasty claims backfire
Quote of the day: 'What we really need from Mr Cameron right now is not advertising but clarity and leadership' - After claims by David Cameron that he's a fan of pasties and that 'the last one I bought was from the West Cornwall Past Company. I seem to remember I was at Leeds station at the time' were disproved (the West Cornwall Pasty Company at Leeds closed in 2007), the company's CEO, Gavin Williams, gives the PM a stern rebuke.
Published: 29 Mar 2012
Last Updated: 06 Nov 2012
.
Find this article useful?
Get more great articles like this in your inbox every lunchtime