Canada's Mark Carney named new BoE governor
In a surprise move, the chancellor told Parliament on Monday that Canadian banker and economist Mark Carney will succeed Mervyn King in the BoE's top job.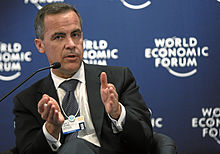 Well, no one was expecting that. The chancellor George Osborne told Parliament on Monday that outsider Mark Carney will replacing the outgoing Sir Mervyn King when his tenure expires next June. The chancellor pointed out that whilst Carney is Canadian, he is still 'a subject of Her Majesty the Queen' – to which a loud cheer went up in the chamber - and has studied in British economics 'for a decade'. Carney, meanwhile, told a news conference shortly afterward: 'I'm going to where the challenge is greatest.' Encouraging words for the UK, right?
The surprise choice has stumped pundits – and bookies – who were expecting the deputy governor Paul Tucker to be selected. He has been the favourite for many months, especially since Carney discounted himself back in August. He said: 'I'm interested in who they pick but very focused on my post at the Bank of Canada.' Reporters at the time asked him if it was a 'no' or 'never' choice, and he replied: 'both'. What exactly Osborne whispered in Carney's ear to make him change his mind is as much your guess as it is ours. The total pay package is around £624,000, so perhaps that had something to do with it...
The 47-year-old Carney has a commendable set of credentials for the role. He is currently the governor of the Bank of Canada and chairman of the G20's Financial Stability Board, but delve back into his past and it's pretty comprehensive. He is a Harvard-and-Oxford-trained economist, and spent a large chunk of his career thus far working in the private sector outside Canada, including 13 years at Goldman Sachs. In February 2008, after having worked for the Canadian central bank for just five years, he became its governor – and at age 42 he was the least experienced and youngest governor ever seen amongst G8 nations. Despite the scepticism of many that his lack of experience would lead to disastrous decision making in the aftermath of the financial crisis, Canada has managed to keep its nose conspicuously clean since the crash.