Candy Crush-ed: King is in danger of being a one-hit wonder
The mobile games maker cut its earnings forecasts, sending shares plunging a decidedly non-tasty 22%.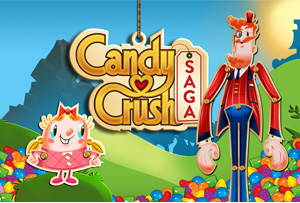 Tech can be a fickle ole indudstry. Just three months ago, things were looking a bit sweeter for mobile games maker King, with first quarter revenues beating expectations and profits tripling, in its first set of results after what was a pretty disastrous IPO. It was also weaning itself of cash cow Candy Crush, which at one point accounted for 78% of income.
But another quarter down the line and things have soured somewhat. Second quarter reported revenues rose 30% to $594m (£353m), but analysts had expected $606m. Bookings - in-game purchases including lives and boosters - fell 5% from the previous quarter to $611m, as gamers start to lose their appetite for Candy Crush.
That meant King had to slash its earnings forecasts: it now expects in-game purchases to total $2.25bn-$2.35bn this year, compared to its previous estimate of $2.55bn-$2.65bn. Shares duly plunged 22% in after-hours trading in New York yesterday.