Capello: a handy phrasebook
Italian Fabio Capello looks like he's about to be appointed as manager of the England football team – and thus given the responsibility of proving that our 'golden generation' of players are not actually a bunch of whinging, overpaid, over-rated prima donnas. So he's going to need some help...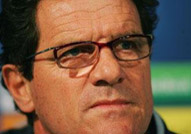 After seeing the abuse dished out to England managers in the past, we're frankly amazed that anyone with such a stellar CV – he's won no fewer than nine league titles with four different clubs – would go anywhere near the poisoned chalice that is the England manager's job. Surely it's the toughest managerial gig in the country?
Still, since Capello seems to be a glutton for punishment, we thought that the least we could do was try and help him out. Since the Italian's command of the Queen's English is, by all accounts, rather limited, we thought we'd put together a list of handy phrases that will help him communicate with his new players and fulfil his media responsibilities...
Malato come pappagallo – Sick as a parrot
Mi sono girate le budella – I was gutted
Giocare ogni partita cosi come viene – Take each game as it comes
Ho appena colpito il pallone e ho fatto il gol – I've just hit it and it's gone in
Desidero giocare il centro campo! - I want to play centre midfield!
L'arbitro e un stro**o – The referee is a wa**er
Giocare piu aperto! – Go wide!
Spingersi piu all'attaco! – Push up!
Ha un buon motore – He's got a good engine
Ha due piedi sinistri – He's got two left feet
Usare maglioni al posto dei palli della porta – Jumpers for goalposts
Una partita di due meta – A game of two halves
Primo tempo buono, secondo tempo non cosi buono – First half good, second half not so good (cf. Sven)