Capitalizing on customer insights
Companies can gain new insights into their customers by integrating consumer data across brands, channels, products and regions.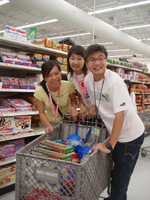 For instance, an electronics firm merged its point-of-sale data with an online survey on shopping behaviour. It learnt that the customers who were buying its TVs at Wal-Mart were mostly interested in watching sports. They changed the mix of products to suit this market (better digital connections, for instance).
The first step in establishing such insights is to define all of the data sources your company needs (such as market and channel sales or category data). Then you need to merge the data with more nuanced information on customers or shoppers such as data from loyalty cards.
By looking at the information through a multitude of lenses, you can ask such questions as who the current or potential customers are, what they want and how much they are worth.
It is important to involve a wide range of people in the process (including those with regional knowledge), involve a new set of partners (such as retailers) and talk to vendors. One of Alcoa's cardboard suppliers, for instance, helped it improve its drinks packaging for Coca-Cola by giving it insights into the way consumers replaced carbonated drinks in their refrigerators.
Source:
Capitalizing on customer insights
John E Forsyth, Nicolò Galante and Todd Guild
The McKinsey Quarterly, No 3, 2006